Vandals often use spray paint to mark public property or your private property. Spray paint is typically more difficult to remove than brush-on paint because it penetrates the wall surface more quickly and is designed to achieve a durable finish. Techniques for removing spray paint depending on the surface the color is adhered to. Getting spray off your walls requires trial and error and some hands-on deck.
How To Remove Spray Paint From Walls Step By Step;
Step 1
Use a pressure washer to remove new graffiti. If the paint hasn't had a chance to dry and set completely, it may be pressure washable. Use a low-pressure setting first and measure your progress. Increase the power as needed until most or all of the spray has been removed. You can add ammonia to the water as a cleaning solution.
Step 2
According to the manufacturer's instructions, apply an organic paint stripper spray to the wall surface. Organic paint removers do not have a negative environmental impact and do not leave visible traces on the affected surface. However, you need to handle these compounds with care to prevent harmful effects on your health. Organic paint removers can also cause paint stains on other wall parts as the cleaner drips off.
Step 3
Use a chemical paint or graffiti remover. Apply the product on the affected part of the wall with a wire brush. Use the brush to scrub the surface so the cleaner works through the paint and the wall surface below. Let the product dissolve the stain for up to 15 minutes. Use a garden hose to spray a concentrated stream of water onto the wall to wash away any debris. Inspect the wall and repeat the process if necessary.
Step 4
Use a power sander or grinder to remove any parts of the wall that have paint that won't come off. Sanding the surface removes the most stubborn stains and should be used as a last resort, as this will damage the wall and leave unmistakable evidence of the treatment.
Step 5
Hire a professional graffiti removal company if you can't do it yourself and are willing to spend the money. Professionals use mixtures of paint remover and absorbent materials called poultices, which they spray on the wall to draw the paint to the surface, where it is removed with the solution. Professional graffiti removers may also use abrasive sandblasting methods to remove stubborn stains.
How To Paint A Stucco Wall?
Stucco is a durable building material that will last for many years. The surface is usually kept its natural color, or a pigment is mixed in when applied. It is possible to paint the wall when it gets dirty. If you do, you'll have to repaint it every few years.
Get ready to paint the stucco wall
Step 1
Inspect the wall for cracks in the stucco. Small cracks will be filled with the paint, but larger cracks will need to be filled with an elastomeric sealant.
Step 2
Scrub the wall with soap and water to get rid of dust, dirt, mold, and loose paint.
Step 3
Prepare the area for painting by removing the fixings, covering the areas you don't want to paint with masking tape, and putting a drop cloth on the floor.
Step 4
Choose a painting. Acrylic latex formula is the best choice for stucco. Make sure to use exterior paint on the outside walls.
Paint Stucco Wall
Soak a roller with the paint
Dip the roller into the tray filled with paint and saturate it well. If the roller is full of paint, the color will go into the rough surface of the stucco more easily.
Start from the top of the wall and go down, making a column in a straight line. Then go up. Next, move a little to the left or right and start a new column that overlaps the old one.
Go over your work to cover any spots you may have missed when you start to run out of paint.
Load the paint roller and start painting again.
Clean up when you're done.
How To Remove Dried Paint From A Cotton T-Shirt?
It's almost inevitable that you'll get paint on your shirt when painting a room. The initial shock of potentially destroying a sweater is often followed by anger and panic. Knowing how to remove this potentially deadly stain from cotton shirts easily can help give you peace of mind the next time it happens to you.
Scrape the excess paint off the shirt with a spoon.
Soak the paint stain in rubbing alcohol to moisten the paint. Rubbing alcohol will work even if the paint has been dry for a long time.
Scrub the shirt with a brush to remove the paint. Be careful not to damage the shirt.
Wash the shirt with detergent and rinse it well.
Inspect the shirt to see if there is still any paint left. Repeat the cleaning process if there is still paint before drying the shirt.
How To Sand And Repaint Iron Railings?
Although iron railings are pretty, they can get rusty and dingy over time. Outdoor iron railings are especially susceptible to rust due to constant exposure to rain. Peeling paint is common on iron railings. Sanding and repainting iron railings will remove rust peeling paint and restore their original beauty.
Mix equal parts white vinegar and water in a bucket. Rub iron railings with a rag dipped in the solution to remove loose dirt, paint, and rust.
Use a metal putty knife or wire brush to remove loose paint and rust.
Sandpaper the iron railings. For light rust and paint flaking, use emery cloth. Use coarse sandpaper for sanding deeper. A drill with an attached sanding pad will make the process go faster for larger jobs.
Sand the railings until no paint bubbles, peeling paint, or other rough areas remain on the surface. You have to achieve as smooth a surface as possible for the paint to adhere correctly.
Apply a commercial rust remover to remove any rust left on the railings. Follow the directions on the label to mix the solution.
Clean railings with a sponge dampened with mineral spirits. This will remove any cleaning residue, paint, or rust. Let the railings dry.
Apply two coats of corrosion-resistant primer, allowing it to dry between coats. Use a sprayer, brush, or roller to apply the primer. Apply it in thin, even layers. Let the final coat of primer dry.
Apply a top coat of corrosion-resistant paint to iron railings. You can apply the color in the same way as with the primer. Apply a second coat of paint, if necessary, after the first has dried.
How To Make Enamel Matte Paint?
Enamel paint is known for drying to a high gloss finish. Because it's durable and goes on smooth, it's ideal for certain types of surfaces where latex paint won't work. Unfortunately, if you want to use enamel paint but don't want the high gloss finish, you won't see many options at the paint store. However, you can make your enamel paint look matte if you know the proper technique.
Pour two gallons of enamel paint into a five-gallon bucket.
Add one gallon of white enamel primer.
Stir the contents of the five-gallon bucket for 10 minutes with a wooden mixing stick.
Continue adding enamel paint until you achieve the desired color.
How To Paint Or Stain Concrete Blocks?
Concrete blocks are used to make concrete foundations, patios, paths, and driveways. These blocks can be reinforced with bars or iron frames, for example, and are used to support houses, shops, and skyscrapers.
The dull and drab color of concrete blocks is not decorative, which makes homeowners add color to foundations and other types of concrete blocks. Using paint or stains to add color improves its appearance, prevents the concrete from perspiring, and improves its ability to resist moisture and absorb chemicals.
Decide if you prefer to use a concrete stain or paint. This is the most crucial step, as both methods have advantages and disadvantages. The stain permeates the concrete, and the color lasts a long time, but it also makes concrete defects more visible. Nicks and cracks show up much more with the stain. Paint has the advantage of hiding definite block flaws, but it will flake over time, and the color will fade much sooner than the stain. Paint protects concrete from harsh weather, while shame does not have this advantage.
Clean the surface of the concrete. Dirt, dust, and grease on the concrete will make the stain or paint look uneven. Spray the concrete with a concrete cleaner, another cleaning chemical, or wash it with a pressure washer. If the concrete was recently placed and dried, it might not be cleaned before staining or painting.
Apply the paint or stain when the concrete surface is between 50 and 90 degrees Fahrenheit (10 and 32 degrees Celsius). This will help the stain bond to the concrete or dry the paint. Neither the color nor the stain will adhere appropriately if the concrete is too cold or hot. Apply the stain or paint following the directions on the container.
Let the paint or stain dry thoroughly before continuing with what you want to do. Do not allow vehicles to drive over concrete driveways until they are scorched.
The Best Type Of Paint To Use On Concrete
The best type of paint to use on concrete depends primarily on the type of concrete surface you want to paint. Concrete stairs or flooring require a different type of paint than a retaining wall, and garage floors present particular challenges. Your options include epoxies, concrete stain, oil- or water-based paints, and regular interior paint. Choosing the best type of paint for the job will ensure long-lasting performance.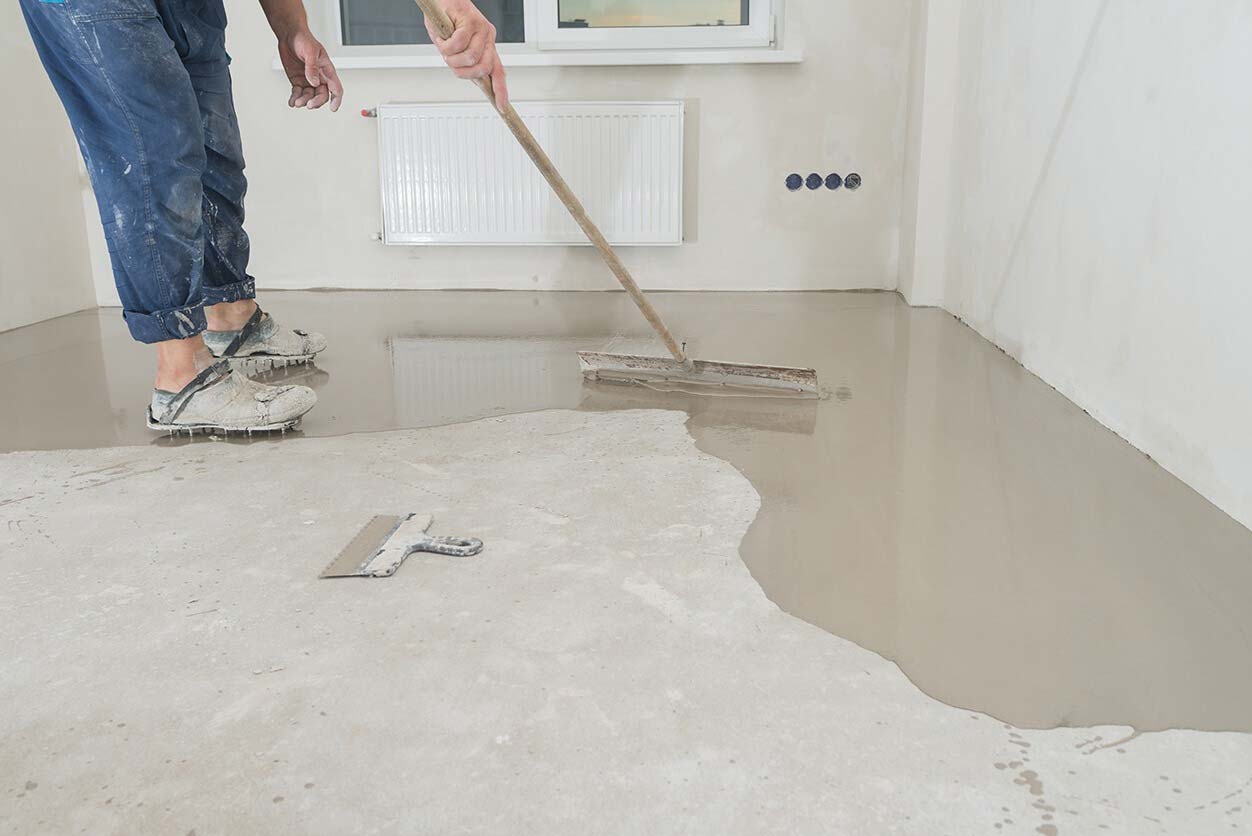 Use the right paint according to the surface.
Previously painted concrete needs to be stripped of loose or peeling paint before repainting. If your current paint is oil-based, you should repaint with an oil-based paint formulated for concrete. Water-based paint will not adhere well to oil-based paint.
Some types of concrete are too porous or cracked and weathered to take up paint effectively. Consider concrete stain to add beauty and some protection for much less cost than coating with concrete. It penetrates the surface, does not flake, and adds color like wood stains.
Concrete walls, interior, and exterior can usually be painted with ordinary paint, as long as they are in good shape.
Concrete Floors
Concrete floors take a lot of wear and tear. Water-based concrete floor paints are available, but they typically don't hold well to feet that take a lot of wear. A better option is an oil-based paint or epoxy. Of the two, epoxy is the more durable, but it is also the more expensive and difficult to apply.
Solvent-based epoxies are challenging to work with and often have to be ordered from a professional paint store. This is the type of concrete paint used in industrial facilities. Water-based epoxy paints are available at home and paint stores and are easier to use. Properly applied, they are durable enough for home floors, including garages.
Preparation is the key.
Concrete walls and other architectural elements do generally not need any special preparation before painting. Just make sure they are clean. Most quality interior or exterior water-based paints are formulated for building materials, including concrete. Check the label to be sure.
The first coat should be thinned with approximately one pint (500 ccs) of water per gallon (3.7 L). Apply one or two coats of undiluted paint over the first coat (two coats preferably for exterior application). Oil-based paint can be applied in much the same way; dilute the first coat with mineral spirits.
Before painting, smooth poured concrete floors (typical in garages) should be degreased and cleaned with muriatic (hydrochloric) acid. This gives the surface porosity and allows the paint to adhere. Skipping this step, particularly on new flooring, could result in extended flaking in a year or two. Concrete floors that are several years old or have been exposed to the elements may not require acid treatment before painting. Check the product label for recommendations since there are many different formulations of concrete paints, epoxies, and stains.
How To Remove Old Paint From Concrete Walls?
Removing old paint from concrete walls is almost always a long, dirty job, and leaving a concrete wall 100 percent paint-free is often nearly impossible. The real problem when removing paint from cement walls is their porosity. If the walls are both hard and smooth, it is easier to remove the coating than if they are very porous. However, with the right tools and a lot of hard work, it is possible to remove old paint from concrete walls with great results.
Wash down the wall with a hose and a cloth to remove much of the surface grime and grime. Vigorously scrub the wall with a wire brush to remove any loose paint or cement.
Put on a mask and gloves, then apply the paint remover gel with a brush. Allow it to soak into the paint for 15 minutes. Scrape both materials with a plastic scraper. Wash the wall with a hose and clean it with a wire brush to remove as much excess paint as possible.
Use the sandblaster on the wall. These devices can be rented at your local hardware store or home improvement center. Medium grade sand should suffice. The sandblaster shouldn't have too much trouble removing the last traces of paint. Wire brush the wall one last time after the abrading process to remove all of the sand from the wall. Wear a mask, goggles, and gloves when using a sandblaster.
How To Remove Candle Wax Stains From A Concrete Floor?
Candles give light and set an open or closed place. But when candle wax melts on a colored concrete surface, it forms a sticky, oily stain. In addition to the molten wax stain, the oil from the wax stains the concrete. If the wax remains on the colored concrete for a long time, the surface absorbs the oil. To fully and effectively remove the wax stain from concrete you must remove the portion of wax at the same time you remove the oil from the surface.
Cover the stain with a resealable plastic bag filled with ice cubes to harden it. Leave the ice pack on the wax until it solidifies.
Remove the ice pack. Scrape off the hardened wax using a plastic scraper. Hit it firmly with the tip of the scraper handle to break it into pieces. Get rid of the wax. If it gets soft during the removal process, harden it with the ice again and then continue removing it.
Remove wax residue from the stained surface of the concrete by putting a cotton cloth on the concrete and applying a warm iron. Heat the iron on medium intensity without steam and press it against the cloth for three to four seconds at a time. When the wax residue transfers to the cloth, follow up with a clean portion and wipe the wax off again.
Add two squirts of liquid dish soap to the concrete surface. Pour water from a bucket to moisten it. Rub the detergent into the concrete until it foams. Allow the soap solution to remain on the concrete for 30 to 60 minutes to remove the oil from the candle wax.
Cover the soap solution on the concrete with sawdust. Let the sawdust soak up the soap solution for an hour, then sweep it up with a broom and dustpan. Wash the surface with water from a bucket and let it dry.
How To Remove Enamel Paint From Walls?
If you're getting ready to redecorate your home, removing old enamel paint may be part of your chores. This job doesn't have to be difficult when you have the right materials and a good dose of patience. Remember to stay safe when removing enamel paint from your walls, as stripper emissions can be volatile and toxic.
Protect yourself from burns, chafing, and other damage by wearing rubber gloves and safety goggles before beginning your paint removal project. You can find a wide variety of these items at a hardware or home supply store.
Layout newspaper pages on the floor near the walls you will be working on. Paint and paint stripper residue can dirty and stain your floor or carpet if there is no protection.
Choose a petroleum-based stripper to remove the polish. Gel formulations stick to the wall without dripping as much as liquid strippers. The label on the product you've chosen should say roughly how much surface area it will cover. Use this information to determine how many packs you will need to purchase.
Ventilate your room, if possible, to avoid breathing in strong emissions. Open windows or use a fan to promote air circulation.
Apply the stripper to the wall, using a paintbrush to spread it evenly. Let the chemicals begin to soften the paint for about 15 minutes.
Scrape the loosened paint off the wall with a paint scraper. You may need to apply more strippers on tricky spots. If a petroleum-based stripper doesn't work, try liquid acetone.
How To Remove Paint From Window Frames?
Paint can change the character and appearance of your home. Removing paint, however, isn't as much fun as applying it. There are many ways to remove paint, from the old sanding and scraping method to heat guns and chemical solvents. Chemical solvents are, oddly enough, the safest way to remove paint from wood.
Heat guns carry fire hazards, and if used with lead paint, they are a health hazard. There are several chemical solvents to choose from: environmentally safe solvents take longer to take effect and need more applications;
Solvent-based ones are flammable and volatile but work quickly. Methylene Chloride or DCM-based solvents remove latex, acrylic, and oil-based paints. However, multiple applications are needed to remove all paint and some are flammable. You can find chemical solvents in gel, liquid, or paste form.
Removing Paint From Window Frames
Use dry paper towels or a lint-free cloth to remove fresh paint drips from window frames. Cleans the paint with a single pass.
Wear protective clothing, chemical-proof gloves, goggles, and a respirator before attempting to remove old paint from window frames. Open all doors and windows for good ventilation.
Lay rags or newspapers on the floor under the area you will be working on.
Working from the top down, apply chemical solvents with an old paintbrush according to the package directions. Follow all safety instructions and read warnings before opening the solvent.
Use a flat-tipped scraper to remove the paint from the window frames, again working from the top down. For small areas and cracks use steel wool.
Reapply the chemical solvent to areas with traces of paint and use the scraper to remove the paint.
What Type Of Paint Is Recommended For Plaster Walls?
Painting a plaster wall can be a fairly easy process if the right type of paint is used. Over time, plaster walls can become brittle and form small cracks and bulges. Certain types of paints can highlight these problems, while other paints can hide them or make them less visible. Patching and repainting can also help maintain a plaster wall, so you'll need minimal restoration work from the line.
Latex Paint
Sound Home Resource Center recommends the use of latex paint to cover plaster walls. Preparation is the key to ensuring that the new paint sticks. A tinted shellac base acts as a primer and can prevent some moisture damage from drywall patches.
Wall holes, crevices, and recessed areas should be filled with plaster patches and allowed to dry. Small cracks must be hidden with putty. The second coat of primer smoothes the walls and prepares them for painting. Texture additives in the paint can also help hide small imperfections in walls and unify surfaces.
Oil Based Paints
In addition to latex paint, the National Park Service Preservation Techniques Services recommends oil-based paint for use on a plastered wall. Plaster must be completely dry before it is painted, and modern plaster can take two to three weeks to dry. A match scratched on a freshly plastered wall should light up if the plaster has dried properly.
Drying walls will have a soft powdery appearance. The Sherwin-Williams website recommends cleaning this type of plastered wall with a solution of one part vinegar to four parts water and allowing it to dry before painting.
Bright paint
This Old House warns against using bright paints for plaster walls. Glossy paint is very effective at reflecting light into a room and will make walls appear rough and uneven. Flat or matte latex or oil-based paints are most effective at hiding imperfections in a wall and help give drywall a clean, smooth appearance.
Considerations
It can be tempting to paint over drywall without trying to fix the cracks, holes, and other blemishes. However, paint alone cannot maintain a plaster wall. Plaster restoration services may be necessary to address plaster problems before they can be painted.
How To Remove Grease From Concrete Floors?
Grease spills can easily occur on a concrete floor, particularly when doing homework on the car or other mechanical work in the shop. Concrete is a porous material that readily absorbs liquid spills. To avoid an oil stain on your concrete floor it's best to remove the grease or oil as soon as possible so it doesn't become a magnet for dirt.
Soak up the greasy substance on the concrete floor with old towels. Lay the towels on the stain, switching to different towels as needed. Throw the stained towels in the trash can.
Cover the remains of the grease stain with sawdust. Pile the sawdust on top of the fat so it can soak up the oil. Allow it to remain on the fat for three hours.
Sweep up sawdust with a broom and dustpan and dispose of it in the trash.
Fill a bucket with warm water and pour enough water over the grease stain to dampen the surface. Sprinkle dishwashing detergent over the entire stain. Work up a soapy lather with the detergent by scrubbing the concrete surface with a stiff bristle brush.
Allow the soap suds to soak into the concrete while you bring the water to a boil in a pot. Pour the boiling water over the grease stain on the concrete. Wear rubber gloves to protect your skin from the hot water and rub the concrete surface once more.
Rinse the concrete floor with a bucket of water, making sure to remove all soap suds. Dry with old towels.
Spray Paint Art: Your Trusted Source for Spray Paint Tips, tricks, Techniques, Product Reviews and Recommendations
The SprayPaintsArt.com, curated a comprehensive catalog of over a thousand posts, including reviews, spray paint style, tips, tricks, and inspiration, written for you by our team of passionate and knowledgeable experts, including professional spray paint artists, stylists, and expert bloggers.
Whether you're a beginner just starting out or a seasoned pro, Spray Paint Art have something for everyone. Whether you need to learn how to choose the right spray paint for your project, master the basics of spray painting techniques, or find the perfect inspiration for your next masterpiece, Spray Paint Art here to help.
SPRAYPAINTSART.COM – YOUR ULTIMATE DESTINATION FOR SPRAY PAINTING INSPIRATION